Catch up with the latest student stories, events, and news updates. It's everything Glasgow Public Schools, in your pocket. If you haven't already, download the app! Download for Android
https://bit.ly/3NrJNiX
Download for iPhone
https://apple.co/3yos1ZD

January 17, 2023 Glasgow Schools provides an opportunity for community members to share their talents and expertise through the Adult Education Program. Any individuals willing to instruct an evening class are invited to contact Wade Sundby - Superintendent, (
wsundby@mail.glasgow.k12.mt.us
) to get started. Interested community members are encouraged to participate by contacting the instructor or calling the school to register. Quarterly fees are $20 per person; however, senior citizens are not charged the participation fee. Additional material costs may be required for project-based classes. The Adult Education Program offers one session. The winter quarter begins mid-February. Please contact Glasgow School District and ask for Wade Sundby if you would like more information or to register for a class at 406-228-2406 or
wsundby@mail.glasgow.k12.mt.us
. Compensation to teach a course will be $20.00 an hour. Sincerely, Wade O. Sundby Superintendent



BUS 10 STUDENTS!! Tomorrow Wednesday the 23rd, we will have to combine the St. Marie route both A.M. and P.M. If you normally ride bus 10 you will be riding bus 3 tomorrow, please expect 10-15min delays. Please share with anyone you think could use this information. Thank you for your understanding and cooperation.

Reminders: The Irle School doors do NOT open until 7:35 AM for breakfast students. Also, please be mindful of the change in temperature. We will be going outside during winter weather; please make sure your child is properly equipped for the school day.

Community Announcement: 📢 The Glasgow High School Athletic Department is looking to train NEW Scoreclock operators, Shotclock operators, and official scorebook personnel. We PAY 💰!! Please contact AD Flaten at 406-263-7909 or message the Glasgow Scottie Social Media Pages.

Love and Logic parenting class that will be held in Glasgow October 21st thru October 23rd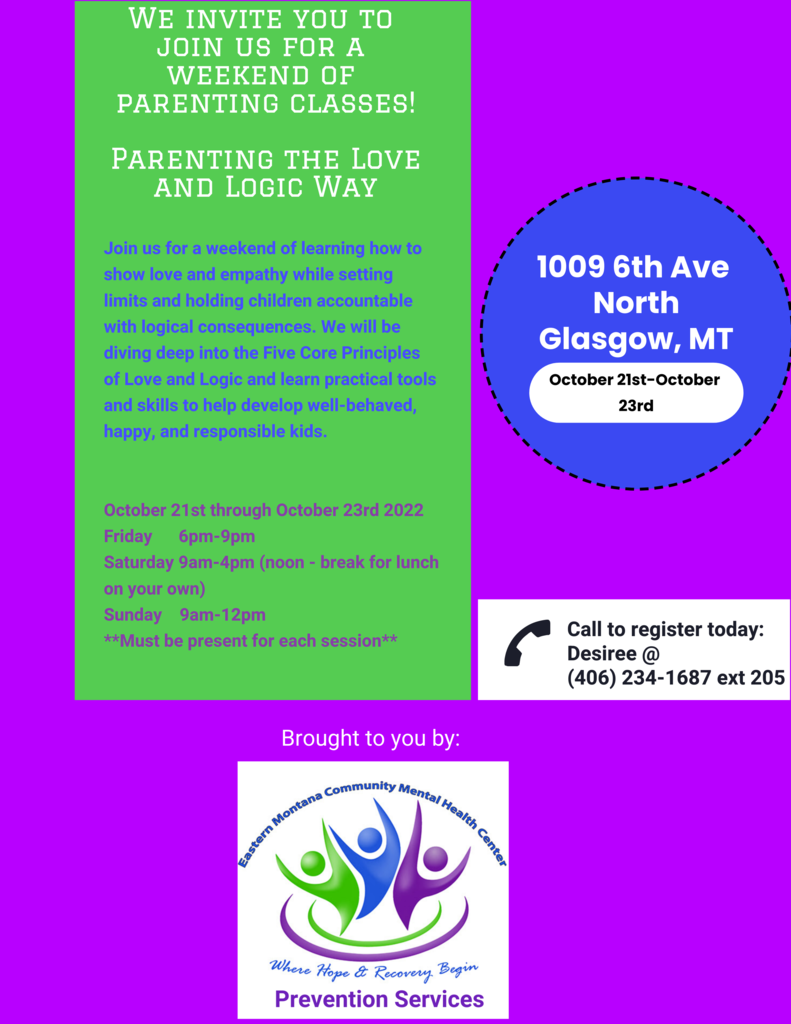 Check out our School District Job Openings!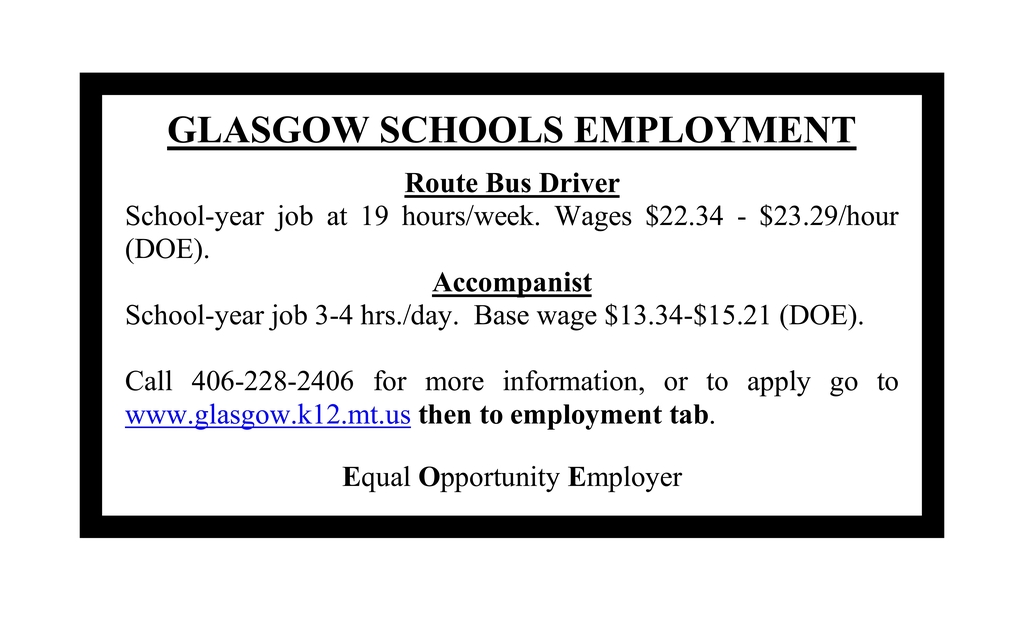 🛑 🛑 BIG Changes coming to Athletic Registration for the 2022-23 school year! 🛑 🛑 Glasgow High School and Glasgow Middle School will be using DragonFly Athletics as we have transitioned to 💯 percent online registration. We will also be taking sports fee payments 💵 through Dragonfly! Hard copies of athletic paperwork will no longer be accepted. (This includes your child's Athletic Physical). Student Athletes will NOT be able to practice without ALL forms completed in DragonFly. The GHS and GMS offices will still take cash or check payment for athletic fees and we can apply those to your child's DragonFly account. 📌 Mandatory All-Sports Parent Meeting is Thursday August 11th 7:00 PM at GHS. 📌 High School Sports Practices start Friday August 12th. 📌 Middle School Sports and GHS Cheer practices start Monday August 15th. Please DON'T WAIT to complete these requirements. Parents, please follow the instructions in the attached pdf. to get started ASAP. Click here to begin:
www.dragonflymax.com